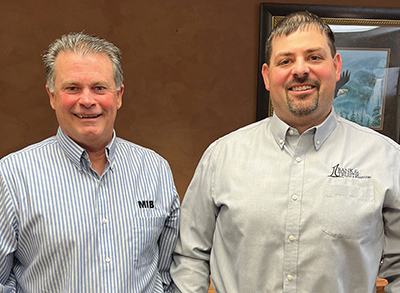 "I always enjoy when Tim Burns visits our bank. The knowledge he has of the banking industry and the services MIB provides to community banks, helps our bank to be able to offer additional products and services to our bank customers. We consider Tim, and MIB, to be an important part of our banking family."
Pictured: Tim Burns (left), Kurt Pickrel (right)
Kurt Pickrel
President
First Bank and Trust of Fullerton Nebraska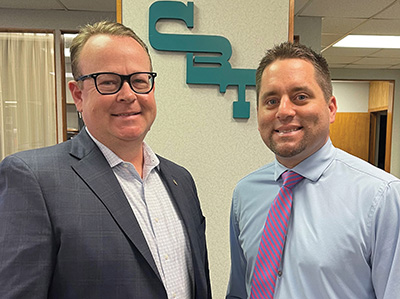 "Ever since I met Chris Bryan, I have been impressed with how professional & knowledgeable he is in his work for MIB. Chris knows what MIB can do for Banks and he knows what he can do for your Bank. He brings energy and enthusiasm to everything he is associated with. Chris has the "IT" factor and he makes everyone around him better. He is who you would want on your team and he makes the MIB team better."
Pictured: Chris Bryan (left), Brock Nuckolls (right)
Brock Nuckolls
President/CEO
Citizens Bank and Trust of Rock Port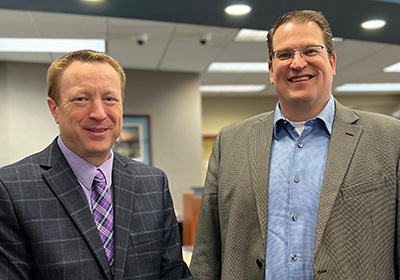 "Stacy Snyder takes time to understand the banks objectives and offers products and services which help us reach our goals. When we meet, he brings to the table options and opportunities that we are unable to find on our own, without considerable research. Stacy is not only a great relationship manager, but also a friend of the bank."   Pictured: James Johnson (left), Stacy Snyder (right) 
James Johnson
President/CEO
PSCB Bank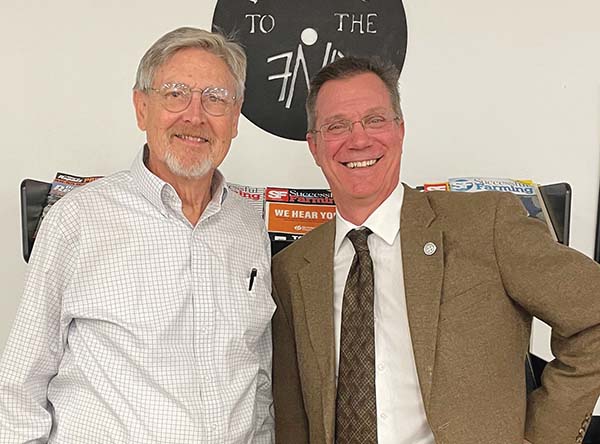 "I always enjoy seeing Ron Hobson when he comes to our community bank. His ability to listen to what our bank needs, and then make recommendations is very beneficial to us. We appreciate the relationship we have with Ron and the MIB team."
Pictured: Jerry Reed (left), Ron Hobson (right)
Gerald "Jerry" Reed
President/CEO
First National Bank of Brownstown
Brownstown, IL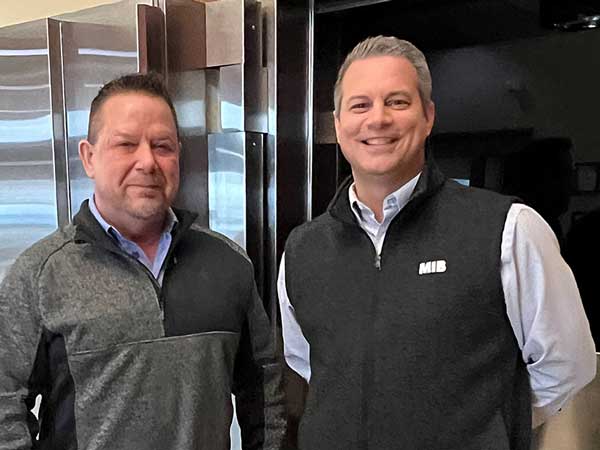 "We are very fortunate to have Andrew Lee with MIB as a trusted partner in these ever-changing times. MIB has the technology and experience to lead us into the future. The electronic banking site is easy to navigate; and the friendly, knowledgeable staff are always there to assist at any time. It is important to feel secure with the people you do business with and MIB has proven that over the numerous years we have done business together."
Pictured: Curt Brumley (left), Andrew Lee (right)
Curt Brumley,
President/CEO
Community Point Bank
Russellville, MO
"Blue Ridge Bank and Trust has been involved with MIB since their formation. We are proud knowing that we have a partner that shares our banking values and the same commitment to community-style banking. They help us serve our customers better.."
Bill Esry
President/CEO
Blue Ridge Bank & Trust Co.
"Back in 1984, we were one of the first charter shareholder banks of MIB and our President at the time, Donald Thompson, was on the original Board of Directors.  We value our long-term relationship and are proud to recommend their correspondent services to other community banks."
Justin St. Pierre
President
Peoples Bank & Trust Co

"We love working with MIB. The staff is exceptional in their knowledge and professionalism, it feels like they are an extension of our team and they always take care of our needs. "
Jared Scholtz
Vice President of Information Technology and Operations
State Bank of Southwest Missouri
"Regional Missouri Bank values the relationship that we have built with Midwest Independent Bank over the years.  The MIB team is dedicated to providing quality services that allow our daily operations to be more efficient.  MIB is a true business partner! "
Beth Roby
Vice President/Marketing
Regional Missouri Bank Marceline